Super Diaper Baby
Written by Dav Pilkey
Reviewed by Tobias A (age 9)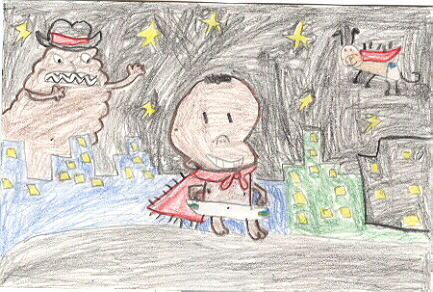 Have you read Super Diaper Baby? If you haven't then you should. This book is about Mr.and Mrs.Hoskins who have a baby. When they are having the baby Deputy Dangerous is by the hospital with super powers. When the doctor is giving the baby a spank for life he spanks the baby to hard. The baby flies out the window and falls into Deputy Dangerous bucket of super powers. What will happen to Super Diaper Baby, find out in the first graphic novel of Super Diaper Baby!
I think this is a good book for whomever likes to laugh and likes funny books. If you like Dav Pilkey then you would like this book.
I like the part when the author tells us Super Diaper Baby beats up Deputy Dangerous because the actions are funny. I can relate to Super Diaper Baby because he has good parent like I do. This is like a book I have read before. It is like Captain Under Pants because it has the same characters and is written by the same author.