The Mouse and the Motorcycle
Written by Beverly Cleary
Illustrated by Louis Darling
Reviewed by Kyle W. (age 8)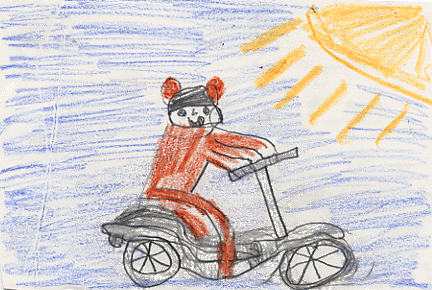 This book is about a boy named Ralph. He and his family decide to take a trip out West. They decide to stay at a place called the Mountain View Inn in Room 215. Ralph is sad and bored there. When looking at a windowsill, he notices holes there. He wonders what made the holes. Ralph manages to stay happy by playing with his toy vehicles, his favorite being a motorcyle. One night, the motorcyle dissapears by accidently falling into a garbage can. Keith, the mouse, finds the motorcyle and rescues it from the garbage can. Ralph is happy to find his motorcycle and to make a new friend as well. Ralph makes a crash helmet out of a ping pong ball, cotton and a rubber band.
I decided to read this book because I like motorcycles and I thought that it would be funny to find out how the mouse would ride it. I think that it is a good idea to make new friends and also find good and new ways to spend your time. This book if full of adventures and keeps the action in the story.
You will want to read this book to see how the mouse and the boy do things together.