Mr. Tanen's Ties
Written by Maryann Cocca-Leffler
Reviewed by Justus C. (age 9)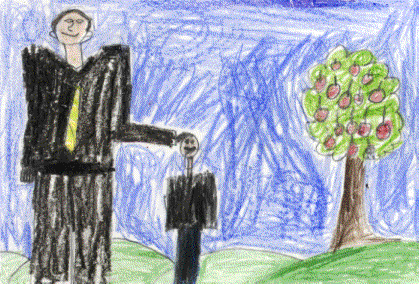 The story is about an elementary school principal that has a lot of crazy ties. He had Halloween ties, apple ties, Valentine's Day ties, Christmas ties, picnic ties and a birthday tie that played "Happy Birthday." One day he had a talk with Mr. Apple from the School Board. Mr. Apple "Mr. Crabapple" because he was always grouchy said, "You must wear proper ties. Here wear this blue tie Mr. Tanen." Mr. Tanen didn't feel the same because he wasn't wearing one of his own ties. It was Frankfurter Friday. He had a hot dog, he got mustard on his tie. He wished he had on his hot dog tie so it wouldn't show the mustard on his tie. There was a birthday party that same day, and everybody was wondering why he wasn't wearing his birthday tie that played "Happy Birthday to You".
The next day Mr. Tanen was not there everybody wondered where Mr. Tanen was. He had called in sick for the week. So Mr. Apple was the principal for that week. Mr. Apple was being strict. The students were feeling sad because Mr. Tanen was not there. The kids saw Mr. Apple bird watching and it gave Alex an idea. Alex gave Mr. Apple a bird tie. He wore the bird tie to the store. The nicest lady, Miss Sweet, the clerk said "What a lovely bird tie. I'm crazy about cats."
The next day Mr. Apple went looking through Mr. Tanen's ties. He got what he was looking for. It was a cat tie. Then he went to the store and went to the checkout line and saw Miss Sweet. She said, "What a charming tie."
Thursday he was wearing another one of Mr. Tannen's ties to the store. It was a rose tie and he brought a rose to give to Miss Sweet. Mr. Apple said, "Will you have dinner with me tonight?" She said, "I would love to."
On Friday morning Mr. Apple was wearing Mr. Tannen's Valentine's Day tie because he was in love. The kids noticed that Mr. Apple wasn't being a grouch any more. Mr. Apple felt like the ties were appropriate. Read the book if you want to find out more.
I really liked the part when Mr. Tannin gets a new tie from Mr. Apple at the end because Mr. Tanen was surprised. I liked how the artist never drew a picture without a tie. I thought that all the different ties were cool. My principal is like Mr. Tanen, he doesn't wear one boring tie everyday. I recommend that everyone should read this book. It is a good book.