The First Dog
Written by Jan Brett
Illustrated by Jan Brett
Reviewed by Josh G. (age 9)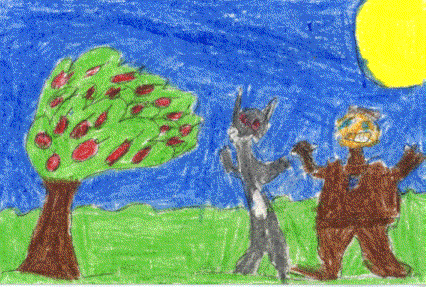 This story is about a paleowolf and a cave boy. The paleowolf warned the boy of danger because the paleowolf ran away from the bear. The boy was paying attention to the paleowolf and saw what the paleowolf saw. Then he ran away also. The paleowolf smelled the rhino bones the cave boy had. The paleowolf always followed the boy because he had the rhino bones and he was hungry. The boy was hungry but the paleowolf wouldn't leave him alone. He turned his back on the paleowolf and threw a clump of moss at him. Meanwhile, a big cat was sitting in a tree behind the leaves, and the cave boy was eating the rhino bones in the same tree. If you want to know what happens at the end, read the story.
My favorite is when the paleowolf saved the cave boy from the bear, because the cave boy was paying attention to the paleowolf. He saw what the paleowolf saw. The pictures in this book are very good. I liked the borders because they show more details in the story. The paleowolf reminds me of my best friend's dog. He always runs away from snakes and all different kinds of danger.
I would recommend this book for first graders and up because it is a good story.