Thank you, Amelia Bedelia
Written by Peggy Parish
Illustrated by Fritz Siebel
Reviewed by Amanda K. (age 10)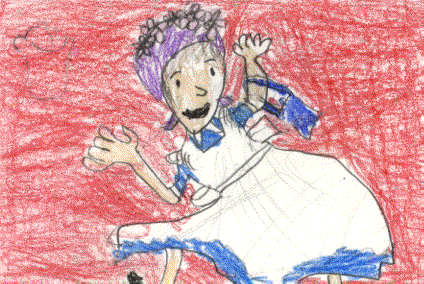 Amelia Bedelia tries to make everything perfect for Great Aunt Myra who is coming today. Whenever she tries to do something it always becomes a disaster. Mrs. Rogers tells her to strip the sheets off the bed. Amelia Bedelia strips the sheets all into pieces. She should have taken the sheets off and put then in the laundry. The doorbell rang and the laundry man brought shirts for Mr. Rogers. Mrs. Rogers told Amelia Bedelia to check the shirts to see if they are all there. Amelia Bedelia looked to see if all of the shirt was there. Then Amelia Bedelia checked the shirts with checkers. Mrs. Rogers was going to town. She gave Amelia Bedelia some spot remover and told her to remove the spots on her bright pink dress. Amelia couldn't find any spots so Amelia Bedelia thought she had meant her light pink dress and their were spots on it. Amelia Bedelia tried to use the spot remover on it. The spots wouldn't come out so Amelia Bedelia cut them out. Amelia Bedelia does other crazy things. When Great Aunt Myra comes Mrs. Rogers finds out all the things Amelia Bedelia has done. What a mess! If you want to know how it turns out, read Thank You, Amelia Bedelia by Peggy Parish.
The funniest part in the book was when she cut the spots out of Mrs. Rogers dress. It made me laugh. My favorite character is Amelia Bedelia because she makes mistakes and it always becomes really funny. I wonder what would happen if my mom did the things Amelia Bedelia does? I think my dad would go nuts.
I recommend this book to people who like books with a lot of mess ups in it and because it is funny.