Wolf!
Written by Becky Bloom
Illustrated by Pascal Biet
Reviewed by Justin Q. (age 9)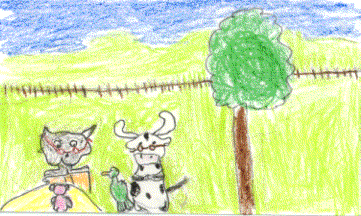 This story is about a Wolf. He goes to a village and he is hungry. He remembers that there is a farm outside the village. He goes to the farm and wants to eat the pig and the cow and duck. Then he can't eat them because they are reading. The animals treat him bad because he is interrupting their reading. The wolf did not like being ignored by the pig, and the cow, and duck. They told him "Go away we're trying to read. This farm is for educated animals."
He had never heard of educated animals and it was something new to him. Now the wolf wanted to read also. He goes to school and learns to read. He goes back to the farm and tries to read to the animals and they keep sending him back to learn to read better. The wolf runs to the public library to practice his reading to impress the animals. He went back to the farm and he read without stopping. They said he showed them he could read, but he needed to practice his style. The wolf slunk away. If you wonder how he gets to read better, you will have to read the book.
My favorite part of the book was when the wolf went to school because all of the children stared at him and were scared. My favorite character was the wolf because he tries to read because he sees the animals reading. The wolf is like me because I try to read better all of the time.
I recommend this book for all children who like to read.