The Zack Files - Hang a Left at Venus
Written by Dan Greenburg
Illustrated by Jack E. Davis
Reviewed by Rick S. (age 8)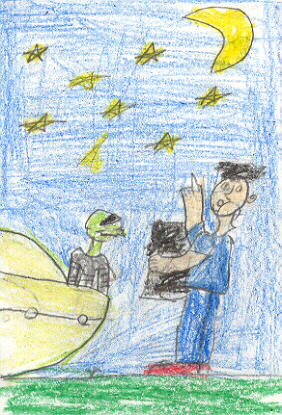 This book is about a boy named Zack and his dad. They were just walking until they saw a glowing space ship. They walked toward it and then they froze. They saw a green creature that did not have ears or hair. It was an alien.
I think your favorite character will be Zack because he was my favorite character. He was funny and wasn't afraid of the alien. This book reminded me of my friend because he acts like an alien. My favorite part was when Zach asked the alien to let go of his hand so that he could clean his nose and that really made me laugh.
I recommend this book to second graders who like fake books about aliens. I also think second graders should read this book because some parts made me laugh so I think it will make you laugh too.