James and the Giant Peach
Written by Roald Dahl
Illustrated by Quinton Blake
Reviewed by Brenna B. (age 9)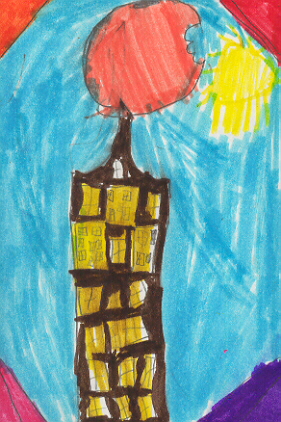 Do you like to eat peaches? Well I do so I decided to read James and the Giant Peach because James planted a peach tree. A peach started to grow on the tree so Aunt Spiker and Aunt Sponge saw the peach and they got hungry. You should read this book to find out what else happens.
This book made me feel sad because James' parents died when they went to London and James was young. A giant rhinoceros ate up James parents in whole! After that James had to go live with his mean Aunts. My favorite part of the story was when the rhinoceros came after James and James told it he wasn't afraid of him. James was also my favorite character because I felt proud of him. He had a hard life but made it better. He also made friends with some bugs and sailed off with them.
I recommend this book to people who like to eat peaches because this book is about a boy named James who found a peach and planted it and then the peach changed his life. Fourth and fifth grade kids should be able to read this book.