The Creepy Computer Mystery
Written by Elizabeth Levy
Illustrated by Denise Brunkus
Reviewed by Adam H. (age 7)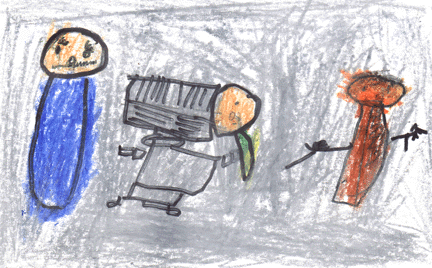 Once Chip, Justin and Charlene wrote a letter to their favorite author that is U.B. Spooks. But U.B. Spooks sends letters that say "You are invited to....DOOM!" Justin is wondering why U.B. Spooks sends those letters. They think some one else made U.B. Spooks write those words.
I picked this book because I like computers and computers are in this book. It is also funny and scary. The computer that is in the book is scary because when you send a note if the people are busy, it says different things like, "Try again" and "Prepare for doom!!" My favorite part was when Justin, Chip and Charlene find out about what happened with the computer.
It reminds me of the book The Absent Author because the author is also missing.
I recommend this book because if someone wants to know about computers they can read this book. This book will also tell them how sometimes computers can be funny and scary.