Little House in the Big Woods
Written by Laura Ingalls Wilder
Illustrated by Garth Williams
Reviewed by Phoebe A. (age 7)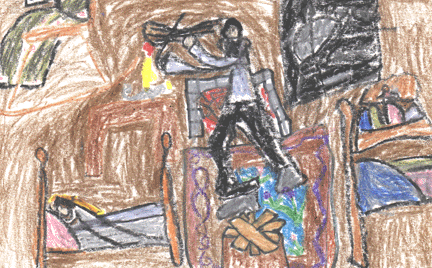 Little House in the Big Woods is about Laura Ingalls when she was five. She lived in the woods of Wisconsin in a little log house with her Ma, Pa, her big sister Mary and her baby sister Carrie. She lived in the late 1800's. So if you like history, you'll like this.
Most people like this book because it's like historical fiction. You might learn lots of things too, like how to make maple sugar and the way old Christians felt on Sunday when no work could be done and lots, lots more.
I like Little House in the Big Woods because it is true life made into a story. I'm just brought into the story and imagined things like this: Pa and the fiddle sang, "Oh You Buffalo Gals Wont You Come Out Tonight..." Laura heard a wolf howl but Jack the bulldog and Pa were there and she felt safe and went to sleep with Pa singing, "All Around the Cobbler's Bench". I like this book because Laura makes her ordinary life sound so interesting. And they make me wonder, "How would it feel if this happened to me?"
My favorite part was on winter nights with Pa and the fiddle. Laura reminded me of myself because I'm sometimes jealous of my little brother Corbin and she was sometimes jealous of her big sister. My other favorite part is when Laura describes going to town because it sounds so different from her ordinary life.
I love the illustration because they are so real! I think Little House in the Big Woods is the best Little House book. The others are: Little House on the Prairie, Little House in the Banks of Plumb Creek, Litle House on the Shores of Silver Lake, and These Happy Golden Years.
If you like history, you should read Little House in the Big Woods.