Wayside School
Written by Louis Sachar
Reviewed by Radele R. (age 10)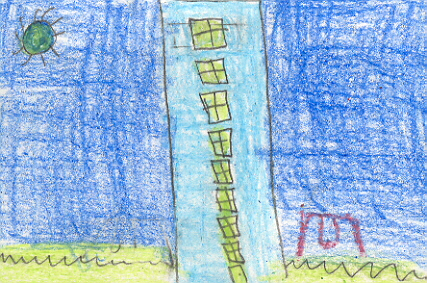 Have you ever seen a twenty story school? If you haven't, you should read this book. This story is about a school called Wayside school that has twenty stories! There is a responsible old yard teacher named Louis. Louis is outside in the front of the school and a truck comes up. There is a guy who has a fragile package for a teacher named Mrs. Jewels and her classroom is on the twentieth story. Louis tries to carry the box to her classroom. Will Louis make it to the twentieth story? Will they find out what is in the fragile box? If you want to find out, read this book.
I liked this book because it is very interesting and very different from books I usually read. The part when Louis tried to carry the box to Mrs. Jewel's classroom reminded me of my dad and his friend getting all sweaty when they were changing our backyard fence on a hot day. This story made me feel different because I was amazed how Louis Sachar put more then one mystery in this very exciting book. My favorite character is Louis because he was trying to do a nice thing for Mrs. Jewels when he tried to carry the fragile box all the way to her classroom.
I recommend this book to people who like to read books about mysteries. If you have a hard time reading books, this might be a good one to try because it is very easy to read. Also this has two mysteries in one book! The mysteries are so interesting that you won't want to stop reading it.