Charlotte's Web
Written by E.B. White
Illustrated by Garth Williams
Reviewed by Melvin M. (age 8)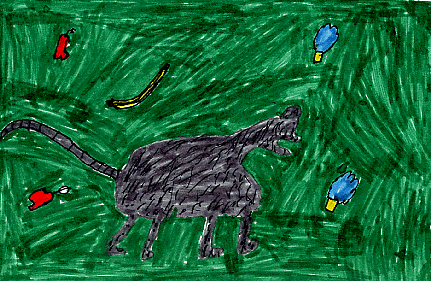 This book is about a pig and a spider. The spider is Charlotte, and the pig is Wilbur. They became friends because Wilbur needed a friend and Charlotte needed a friend. The farmer was going to kill Wilbur, so Charlotte wrote "Terrific" in her web. Wilbur became famous, so the farmer didn't kill him. Charlotte needed someone to save her egg sac, and so who do you think helped her? You should read the book and find out.
I really liked this book because it made me laugh. I like Templeton, the rat, the best because he likes to eat, like me. At the fair he eats so much he starts to look like a Sumo-Wrestler. He helps Charlotte save Wilbur, but he is grumpy about it. This is a special book because it talks about how to be good friends.
I recommend that you read this book because it is a funny book. Third graders and up could read this book, because it is a long book.
i