A to Z Mysteries: The Absent Author
Written by Ron Roy
Reviewed by Chris E. (age 9)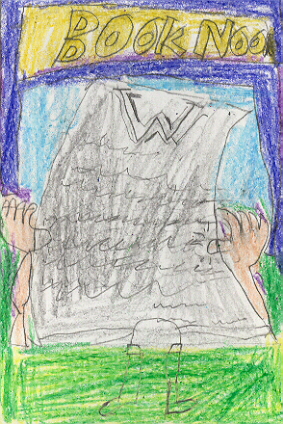 Have you ever heard of an absent author? Well if you haven't, The Absent Author from A to Z Mysteries is a great adventure for you. It's about a kid name Dink and his friends, Josh, and Ruth Rose going to meet a famous mystery writer named Wallis Wallace. He was going to do a book signing at a place called Book Nook but he doesn't show up. It's up to Dink and his friends to find him.I can't tell you the end, that's why you can find out what surprises are held in this book.
My reaction to this book was a warm excited feeling. It's a warm excited feeling because the book got better and better. It made me think what was going to happen next. It was so exciting that I wanted tell everybody the ending of this book.
My opinion of this book was a thumbs up because it had a combination of laughter, adventure and surprises. The author who wrote this is a great writer because he gets me really excited. My favorite part of the story was when Josh tells Ruth Rose "I don't know what's louder your outfit or your voice." I thought that was funny. My favorite character was Josh because he reminds me of my cousin who likes to joke a lot.
I recommend that everybody who likes mystery books to read this book because it has a lot of excitement. This book made me think ahead a lot to what was going to happen. It also gave some clues, then fools you. Hope you enjoy it.