Hank the Cowdog: The Case of the Raging Rottweiler
Written by John R. Erickson
Reviewed by Dandra M. (age 9)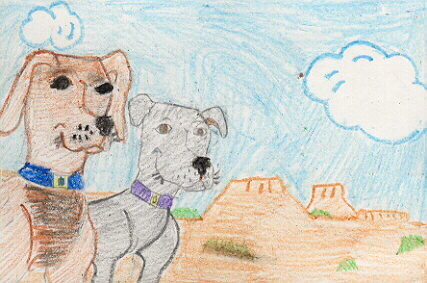 Have you ever heard of a Cowdog? If you haven't, then you should read Hank the Cowdog,starring in the Case of the Raging Rottwieler. Hank lives on a ranch, with a loyal owner,and a confused puppy friend, named Drover. Hanks owner's name is Slim. Hank sees a rottwieler whose name is Bruiser. He is muscular, humongus, and furocious. Is Bruiser all talk and just scared of Hank?
This book makes me feel excited. The reason why is Hank stands up to Bruiser a few times. My favorite time is when Bruiser attacks a defenseless fawn and Hank stands up to that hunk of muscle and teeth.
I like this book because Hank makes it sound like he is talking to you. He uses funny words and phrases like"Gadzooks".
This story reminds me of my old dog, named Cole. He used to have a friend named Issac. Once, Issac started barking at me. My dog nipped Issac on the back. Cole saved me! Even though he no longer lives with me, I still love and remember him.
I recommend this book to people who like dogs. The reason why is because the main characters are dogs. I also recommend this book to peole who like to laugh. It's a really funny book. I recommend this book to children and adults ages six and up. There is also a series of Hank the Cowdog books. Have fun reading Hank the Cowdog Books.