Zombies Don't Play Soccer
Written by Debbie Dadey
Illustrated by Christopher Pope
Reviewed by student in Miss Guyer's 4th Grade through 5th Grade Class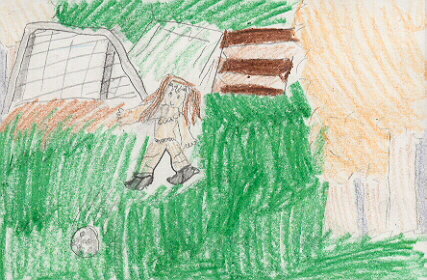 Have you ever heard of a zombie that plays soccer? Well if you haven't then read Zombies Don't Play Soccer. This book is about four kids that go to play soccer and get a new coach and she is like realy strict. A lady in the crowd at the soccer game puts a spell on the new coach. How do you think the Bailer school kids get there coach back to normal?
This story reminded me of when my parents go to vacation and freaky stuff happened around the house. This book made me feel curious about what is going to happen next. My faviorite character is Eddie because he doesn't believe in this stuff. He doesn't believe in zombies or any thing like that. Eddie reminds me of myself because I don't believe in that stuff either. I recommend this book to any kids that like zombies or vampires and werewolves. I liked this book because I think it's like a mystery and I'm into mystery books.
I think you will definitely want to read the other books about the Bailer school kids.