Pokemon - I Choose You!
Written by Tracey West
Reviewed by Jovan C. (age 10)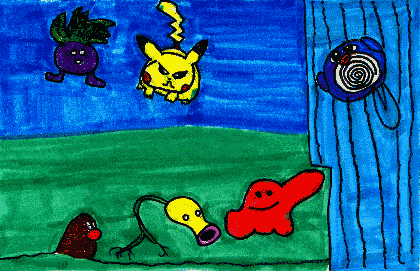 I really enjoyed this book. It was about a kid named Ash Ketchum who wants to be a Pokemon trainer. The day before he is going to be a Pokemon trainer he goes to sleep late. When he woke up he had to rush, and by the time he arrived there was only one Pokemon left. That Pokemon was Pikachu. Ash and Pikachu do not like each other. With a lot of hard work, Ash and Pikachu become a great team. They catch more Pokemon, beat other Pokemon trainers, and Ash is on his way to being a Pokemon master. Will they ever get to know each other? If you want to know more you need to read this book.
When I read it I was amazed, because they get to know each other and become a good team. Another reason I liked it is because it is part of a series, and I have 3 of the 11 books. So you can get all of them and know about Pokemon.
If you like reading about adventures and Pokemon you should read this book. I think if you read this you would want to see the shows. These shows can be very funny. A lesson that could be learned from this book is that to achieve something you must never give up.