Big Pumpkin
Written by Erica Silverman
Illustrated by S. D. Schindler
Reviewed by Joey G. (age 6)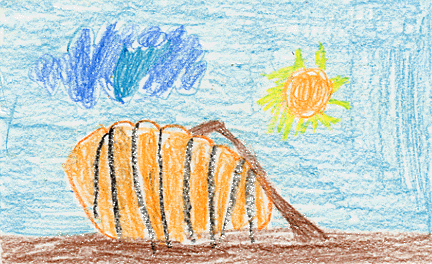 This book is about a growing pumpkin and a witch that grew the pumpkin. They were pulling on the pumpkin for pumpkin pie. This story was about helping because they were all helping the witch. I liked the story because it showed me how to grow a pumpkin by getting a seed and putting water on top of it.
My favorite part was when they were pulling each other because I like to say that part out loud. I thought the pictures were cool. I liked when the bat was eating the pumpkin pie. This story made me happy because it was funny.
This story reminds me of Halloween. It reminds me of my brother Josh who helps me with the Power Ranger game because I can't win it by myself. I would recommend this story, it is funny.