Junie B. Jones and the Stupid Smelly Bus
Written by Barbara Park
Illustrated by Denise Brunkus
Reviewed by Kelsie A. (age 9)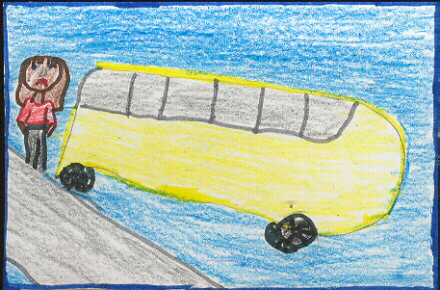 Have you ever rode on a stupid smelly bus? If you have then you would like this book. Junie B Jones is a funny book about a girl who does silly things at school. It is Junie B's first day in kindergarten and she has to ride on a stupid bus. She doesn't really like the bus because she was scared to ride it. But in the end she has a good time.
I thought this book was great becuse Junie B. always has something funny to say. This book made me think back to when I was in kindergarten because I always thought I was right - just like Junie B. My favorite part of the story was when Junie stayed after school because she didn't want to get on the bus. She went sneaking around the school and played with things she wouldn't usually be allowed to touch. I wish I could do that!
I recommend this book to all 2nd,3rd,and 4th graders that like funny books. This book is so funny you will laugh out loud.