The Secret School
Written by Avi
Reviewed by Cara G. (age 10)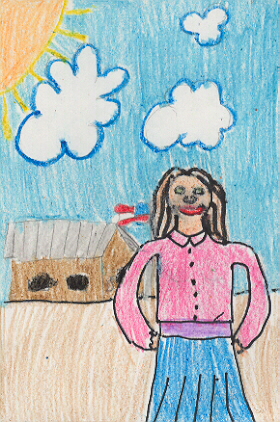 Has your school ever shut down in the middle of the school year? Well,Ida'sschool has and she needs to have a final exam to get into high school. Her friend tells her to run the school as teacher! She decides she will. She soon finds out teaching isn't just fun and games. But, then the school board finds out! What will happen to Ida and the school? Read to find out and have a great time!
I really liked the book because it let me feel how it would be like to be a teacher at the age of fourteen. My favorite character is Ida because she brings the book together. My favorite part of the book was when Ida stood up to the worst boy in the school and said she'd kick him out of school if he didn't shape up. In the story Ida changed by growing up. The book reminded me of The Little House Books because this is in a one room school house except that the Little House Books happened at an earlier date. I felt excited as I read this book.
This book is great. I think people who are ages 9-14 and want to be a teacher should read this book. This is a great adventure story. And a great friendship story. But, this book is better for girls. I recommend this book because it was suspenseful and exciting. I really, really liked this book. I really think you should read this book if you like adventure and friendship.