Beautiful Pig
Written by Margaret Mahy
Illustrated by Rodney McRae
Reviewed by Anthony R. (age 9)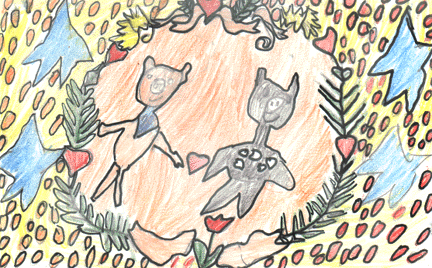 The story is about a pig which wants to show how beautiful he is. He went to work and he saw a dog. He said, "Hello, dog. It is your lucky day, you may look at me for as long as you like and see how beautiful I am." The dog says, "Beautiful! You are very, very plain." After that the pig got to the cat and said the same thing. And the cat said the same thing as the dog. Then he saw a wolf and he had never seen a wolf so he didn't know what a wolf was and he said the same thing. Here's going to be the interesting thing. If you want to know if the wolf ate the pig or what will happen, you have to read the book.
I think the book is very good. I like it because it is funny and interesting when pig said, "You must look, look, look and not cook, cook, cook!" I like the pig and the wolf because they were funny. A very good part is that when the pig was crying he saw another pig. The pig said, "Maybe I am plain." A voice came and said, "You're beautiful. I like your tail. I think you're more beautiful than me."
If you like funny books or if you like to wonder about books you should read this book.