Gooseberry Park
Written by Cynthia Rylant
Illustrated by Arthur Howard
Reviewed by Aneta G. (age 7)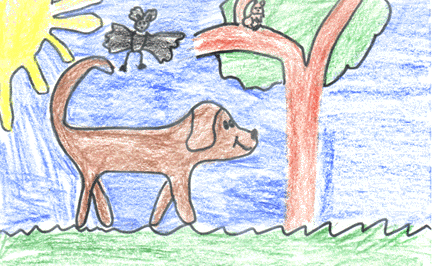 Are they friends? Yes. A dog named Kona, a squirrel named Stumpy, and a hermit crab Gwendolyn and also a bat named Murray. They play with each other until a big ice storm hits. Stumpy gets lost! Kona tried to search for Stumpy. Kona is worried. Where is Stumpy? Kona has an idea how to get Stumpy home.
I liked Murray, the bat, because he's very funny. He always is hungry. Murray reminded me of my little sister, 'cause she is always eating something. My favorite part is when Kona went out looking for Stumpy because I always thought Kona would find Stumpy. This book made me wonder where Stumpy was.
I think that kids should read this book because I liked it a lot. I even read it three times! I recommend this book to readers who like to wonder about books.