The Josefina Story Quilt
Written by Eleanor Coerr
Illustrated by Bruce Degen
Reviewed by Janea V. (age 9)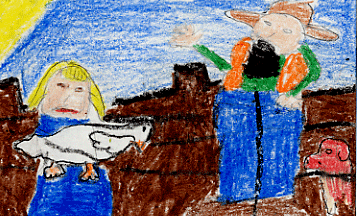 This story is about a girl and a hen. The girl's name is Faith and the hen's name is Josefina. Faith's family was taking a covered wagon to California. When Faith was packing, she asked her dad if she could take her hen to California. Her dad said no because she is too old to lay eggs and too rough to eat. Faith cried and cried until her dad let Josefina come. Read this book and find out what happens to Faith and Josefina on the way to California.
I liked this book because it is about a girl and her pet, and I like animals. Faith reminds me of myself because she cares about her pet, and I care about my two dogs. I like the illustrations because they help me understand what the book is telling me.
I think my friends would like this story if they like animals.