The Adventures of Super Diaper Baby
Written by Dav Pilkey
Illustrated by Dav Pilkey
Reviewed by Chris R. (age 8)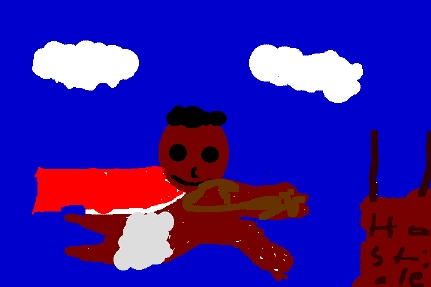 One day George and Harold got into trouble with their principal. They had to write a 100-word essay. The boys wrote about Captain Underpants, because he's a super hero, but the principal told them they couldn't. So George and Harold made their comic hero about a baby named Billy, and then they called him Super Diaper Baby. Super Diaper Baby has many different kinds of powers, and he fights the bad guys. Look for the ending.
I like this book because it has a flip-o-rama in every chapter. I like the part when the robber turns into poo. I think this book is funny. It reminds me of Captain Underpants, because they have the same author. I also like it when Super Diaper Baby slaps the robber.
I would recommend this book for people who like to laugh. What really interested me is when Super Dog saved Super Diaper Baby from the giant poop that was chasing him.