Anansi and the Moss Covered Rock
Written by Eric Kimmel
Illustrated by Janet Stevens
Reviewed by Collin R. (age 8)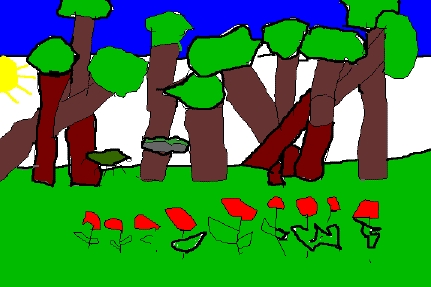 Anansi is a spider that liked playing tricks on other animals. One day he took a walk in the forest and found a moss covered rock. He thought it might amaze animals. He went to everybody's porch and tricked them by saying "I am taking a walk in the cool forest. Would you like to come?" The trick was to get them away from their food. When they lay by the rock, he left them and went back to their house and took all their food. But a little deer was spying on Anansi. The deer collected coconuts on her porch. The deer went in the forest when Anansi tried to trick her with a walk in the forest. The deer did not fall for it, returning to a porch of food. The deer taught Anansi a lesson not to trick others.
I like this book because it is funny. My favorite part was when everyone got their food back and when the deer was spying on Anansi. I thought it was mean when he stole their food. My favorite character was the deer, because he didn't want people sad. I think there were good illustrations.
I would recommend this book to people that like reading stories about people that play tricks on others. I think this book will interest readers because it is a good book to read, and it is kind of funny.