Ramona the Pest
Written by Beverly Cleary
Illustrated by Louis Darling
Reviewed by Maia S. (age 8)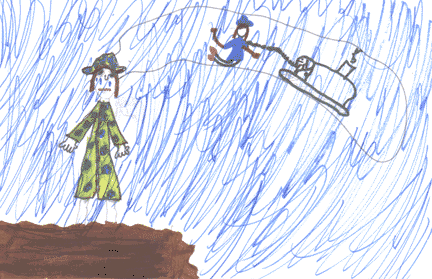 Do grown-ups or older kids call you a pest? Well, they call Ramona a pest. But just because they're older they don't have to ruin everything!
In the book Ramona the Pest, when Ramona goes to kindergarten, her teacher says, "Sit down and sit down for a present." So she sits and waits for a present. When the teacher Miss Binny tells the class to look for their names in the coat closet Ramona sat still because she didn't want to spoil her present. Find out how Ramona gets in trouble and goes on adventures.
The book Ramona the Pest reminded me of a girl who is four years old and she has short hair and wears overalls. If you have read Beezus and Ramona, even if Ramona is four, she still causes big trouble.
I recommend this book to big sisters or brothers and people who like to get a big laugh. I also recommend this book because it is full of adventures and great jokes. I like the way Beverly Cleary wrote the chapters because each chapter is a story. So get ready for some fun!