Cam Jansen and the Mystery of the Stolen Diamonds
Written by David A. Adler
Illustrated by Susana Natti
Reviewed by student in The Rockerfellers aka Los Chocolates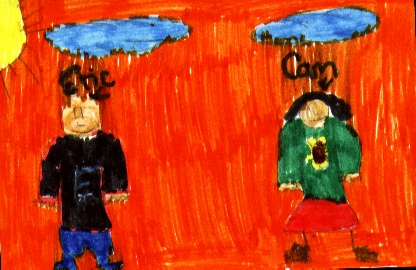 Have you ever read or seen a detective movie? Well, this book is just like being a detective. Cam Jansen and Eric Shelton solve mysteries together. Cam?s real name is Jennifer. But she?s got what people call ?a photographic memory.? A photographic memory is a memory that can remember anything. For an example, it?s like a camera. It takes a picture and then when you develop the pictures, the pictures that you took came out.
Now, back to the story. Before people used to call her, ?The Camera.? But now they call her Cam. This mystery is about stolen diamonds. It starts when Cam and Eric are sitting down on a bench in front of Parker?s Jewelry store. Both of them are playing a memory game while Eric is babysitting his little brother Howie while his mother was busy shopping. Eric closed his eyes and Cam asked him, ?What color jacket am I wearing?? Eric said, ?Uh? blue?? Then Cam said, ?Wrong. I?m not wearing a jacket.? But right there, the alarm went off from the jewelry store. A fat man ran out of the store and pushed everybody to the floor. I?m not going to tell you the rest because I want you to read the book, OK!
I don?t like the illustrations because they are black and white. I also noticed that sometimes Cam?s face looks different in some of the pictures. I like this book because it is interesting and it surprised me especially when the man ran out from the jewelry store. I thought it was him, but it was not. My favorite part was when Cam and Eric were playing the memory game because I like memory games. I like Cam Jansen because she has a photographic memory. I don?t like the fat guy because he tricked the policemen.
I think you should read this book, kids, if you like detective stories. This book is very interesting. I think the age group that should read this is 5-9. I have not read other Cam Jansen books. I would like to read other Cam Jansen books.