Here We All Are
Written by Tomie de Paola
Illustrated by Tomie De Paola
Reviewed by Anthony F. (age 11) & Arnold C. (age 10)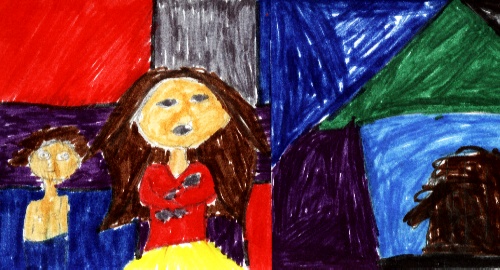 Has your school ever had a health food show? The main character in the book we are reviewing had a health food show in kindergarten. This is one of the many interesting parts of the story. We are reviewing a book called Here We All Are. It is about four people moving to a new house with three rooms. Tomie and his family moved to a new home. His mother, his father, his older brother, his baby sister, and he moved into the new house. They had a big breakfast. When they were done eating, Tomie ran up and down the stairs. He put on his mother?s make-up. He looked funny. Then he went to kindergarten.
When he went to kindergarten they were doing the health food show. When Tomie went home his mother told him that she was going to have a baby. Tomie asked his mother if she was going to have a girl and Tomie?s mom said she did not know. She said she was going to the doctor to see what she was going to have. The next day she found out she was having a girl. He got mad because he did not want a little girl to take his place. When the baby was born Tomie was yelling like crazy. Then Tomie learned not to be jealous of his family and friends. One of our favorite drawings is the one of the whole family because Tomie is holding the baby and everybody was happy.
Another favorite drawing is when they are picking out some clothes for the baby. What is special about this book is it is a memoir which means it is a memory of somebody?s life in a book. My favorite people in the story are the baby and Tomie because they played the most important roles in the book. We can compare the book to our lives because we moved to new house and we have babies in our families. We recommend this book to people who like non-fiction and people who like funny stories.