Aunt Harriet's Underground Railroad
Written by Faith Ringgold
Illustrated by Faith Ringgold
Reviewed by Deshawn W. (age 11)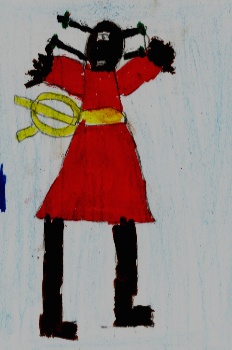 The story is about this kid named Bebe. BeBe got lost on a train. When his parents found him, they were happy. Later he wrote his father a letter. Cassie died cause somebody killed him. He was a nice man. I learned a lesson from this book: one day I could run around the train from cart to cart and wont get lost. Don't go any were by your self because you get lost! Also, I learned running in a train is bad cause you could fall into the train tracks. I like the cover because Aunt Harriet and her children are in the sky. I like the color of the sky because blue is my favorite color. Also the train looks so real in the book. I like how the whole family is flying together.
I felt sad because somebody killed Cassie, Bebe's father. They had a funeral for him, it was sad. Everybody was crying in the church. When Babe went home he was crying all night. Then he finally went to sleep. My favorite character was Bebe cause he was nice and bad. He wrote his father a letter. That's why he was nice the letter said that he loved his father very much. He was bad cause he got lost on the train. Bebe started going too church cause his father died.
This story reminds me of my friend because I wrote him a letter. He never wrote me back. My friend's brother called me. They said that Jason died because he was too fat. I was in church praying for him.
I will recommend this book to my friend because he likes books. This book is very nice because the pictures are colored blue. All my friends will like this book because at the end of the story Cassie son, Bebe started going to church. I think church is nice when they start singing songs.