Goodnight Opus
Written by Berkeley Breathed
Reviewed by James S. (age 11) & David A. (age 10)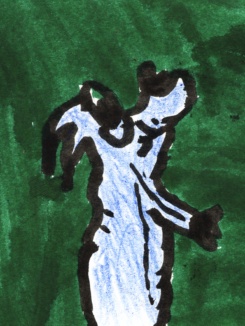 It was bedtime at Opus's house and his grandmother was getting ready to read Opus his favorite bedtime story. When she started reading the goodnight story, Opus got carried away and started to say good night to things that was not in the story. His grandmother told him it is better to not make up things. But Opus didn't think like that. So when his grandmother fell asleep reading the goodnight story, Opus used his imagination to go say good night to a lot of different people in different places. This is when the real fun began for Opus. He visited Washington and the Tooth Fairy on top a building, and some sailors at the Blue Mist Lagoon. We think that is in China. Opus even said good night to the cows in the Milky Way!
We liked this book because it was funny and fun to read. We liked the pictures because they were colorful and they looked almost real. We really liked the part where Opus tells his grandmother about his adventure. The grandmother didn't fuss at all. She listened to Opus. It is good when grown ups listen to little kids. We know stuff too sometimes.
We recommend this book to anyone who has a good imagination and who likes to stay up late and play.