Amelia Bedelia 4 Mayor
Written by Herman Parish
Reviewed by Artis G. (age 10)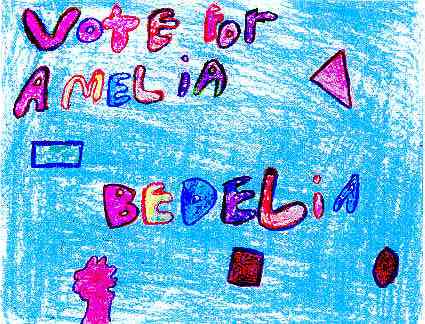 The title of the book I read is "Amelia Bedelia 4 Mayor." The author is Herman Parrish. It is a funny, animated book.
In the book, Amelia Bedelia did a lot of things that did not make sense because she did not really understand sometimes when people said something to her. From reading about her experiences, I learned how sometimes words sound the same but are spelled differently and have different meanings. So, the real meaning of what is being talked about may not be understood. This can confuse people. This is especially true if you are not careful and you are not clear when you talk. I learned also that sometimes when people say things and they are not understood that can make people do funny things if they do not understand what you are saying.
I have never read a book like this before with this kind of humor. I really would like to read more books like this maybe by the same author. I was not bored by the book because it was so funny and easy to read. The jokes made me laugh. I even laughed out loud sometimes. I liked the pictures in the book too. They were drawn by Lynn Sweat. Mr. and Mrs. Rogers, the reporters, the mayor and Amelia Bedelia were the main characters in the book. Another main point of the book was even some smart people are sometimes not understood or do not always understand what is being said.
I read this book because some of my friends said it was a good book. I like to read books once in a while. I like to read books so my grades go higher. I like reading books like Amelia Bedelia because they are fun and fun books are for me.