The Cat in the Hat Comes Back
Written by Dr. Seuss
Illustrated by Dr. Seuss
Reviewed by Jaiah D. (age 10), Jose C. (age 10) & Nicholas W. (age 9)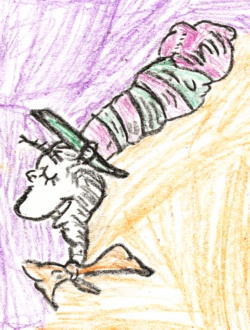 The story is about a girl and a boy who were at home alone. Suddenly a Cat in a Hat came into the house. He did all kinds of bad things, like messing up the girl and boy's mother's dress and got ink all over everything.
We liked this book because the cat did all kinds of things that could get the girl and boy in trouble with their mother. We also liked the rhymes. We liked the way the story was told in rhymes. It made it like a song. We also like the way the cat put everthing back in place so the children would not get into trouble. Our mothers would be very mad to see our houses look a mess like that. So we were glad to see the house cleaned up again. You will have to read the book to find out if the girl and boy's mother every found out what a mess the house was.
We recommend this book to everyone who has ever stayed home alone and was bored.