Click, Clack, Moo Cows that Type
Written by Doreen Cronin
Illustrated by Betsy Lewin
Reviewed by Vanessa O. (age 7)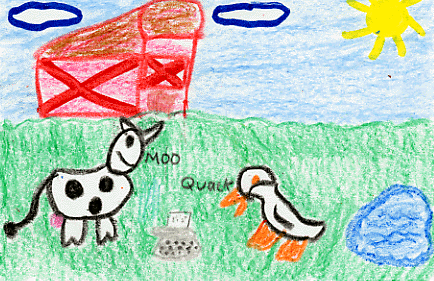 This book is about farm animals that want people things. The cows and chickens want electric blankets. The ducks want a diving board. The cows type a note to the farmer. He gets real mad when he reads the note. He says, "NO!" Then the cows say no milk or eggs until we get what we want. Will the farmer give them the warm electric blankets? Read this funny story to find out.
I liked this book because it made me laugh. Cows can not type. Chickens can not type. I laughed when the farmer got mad. You will laugh to. My favorite part was when the animals were sleeping all warm in the barn. When I read this book I felt happy because it was funny and the animals were making the farmer angry.
I recommend this book to girls and boys who want to laugh alot. Everyone who wants to be in a funny mood will like it.