Baa Baa Black Sheep
Written by Iza Trapani
Illustrated by Iza Trapani
Reviewed by Damian R. (age 6)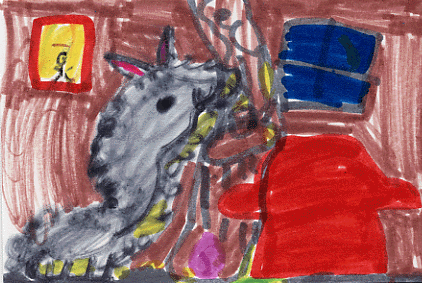 This book is about a black sheep. All the animals in the story are asking the black sheep for things they like. But the sheep did not have anything the animals wanted. She did not have milk or bones. The animals wanted things sheep do not usually have. But there is one thing sheep have alot of and she shares it. Read the story to find out what the sheep shares. You might be surprised!
I really liked this book because the sheep shared. That was the most important thing because her friends were beginning to get mad at her. She did not let them down. She showed them she cared about them. This reminds me of when me and my sister do not want to share with each other. We both start to get a little upset but then everything is okay when we share. I really liked the illustrations. The funniest illustration was the pig at the door. Everytime I see it I laugh.
I recommend this book to everyone. I think everyone will like it because it is funny and it has a nice ending.