The Shiny Skates
Written by Elizabeth Koda-Callan
Illustrated by Elizabeth Koda-Callan
Reviewed by Brittany A. (age 8)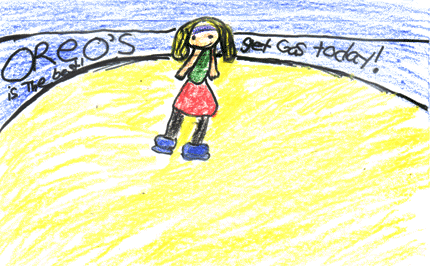 Man! I can't do this! There was a litle girl and she dreamed of being a famous skater. Then one day she got an invitation from a friend to a skating party. She was worried that everybody will know how to skate but her. Then her mom gave her a silver necklace that came in a yellow envelope with a ribbon on it. She gave her the necklace so the little girl won't be sad that she can't skate. Then she learned how to skate by taking lessons. Then she went to the party. See what happens to the little girl at the skating party.
I was so surprised when she got an invitation to her friend's party if she wasn't good at ice skating. But then I learned why she was invited. I liked it because you can learn a lot of things and it was fun to read.
I think that everybody should read this book because it is a very good book because it teaches you things and it's funny. There's a lot to learn. The lesson is that you don't have to be perfect to do anything. I recommend this book to anyone who loves to learn and be excited.