The Magic School Bus in the Time of the Dinosaurs
Written by Joanna Cole
Illustrated by Bruce Degen
Reviewed by Nagnouma F. (age 7)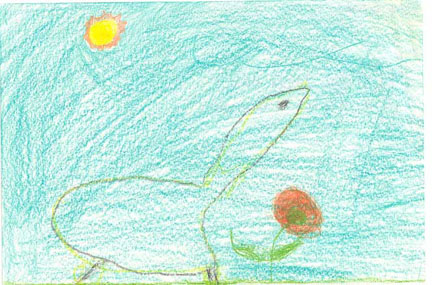 This interesting book is a book about dinosaurs. I like this book because it will make me learn the insights about dinosaurs. It had a large reptile that ate a little dinosaur that just came out of its mother's egg. Mrs. Frizzle's class went to a place that people were making signs. All of a sudden, dinosaurs came out. Mrs. Frizzle told everyone to get into the bus and they did. The kids were scared because the dinosaurs had sharp teeth. Do you think the dinosaurs ate the kids; you are just going to have to find out.
I like this book very much because it taught me some facts about dinosaurs that I did not know before. My favorite part was when the dinosaurs laid the eggs because I like baby dinosaur eggs. I did not like the part when the crocodile ate the little egg. I was really sad when that happened.
But the book is very interesting to read so I definitely recommend this book to other children, especially if you are a dinosaur lover.