The Cat in the Hat Comes Back
Written by Dr. Seuss
Illustrated by Dr. Seuss
Reviewed by Tommy H. (age 9)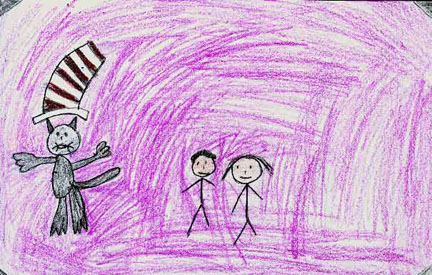 This book is about a cat with a big hat who wants to bother the kids. The kids try to get the cat out of the house. This cat is a very tricky cat because he is very clever. This cat also has a little cat's in his big tall hat with the letter's of the alpahbet.
This cat is like me because he wanders around kid's house. He likes to do things that he is not supposed to do. The cat was the character who I like the most because he is funny like me.
This book is like another book by Dr. Seuss. The title is The Cat in the Hat. I hope you could read that book too.
My favorite part is when the mother comes back and then the cat uses a machine to fix the house. I think the story is very nice and funny so you should read it.
I definitely recommend the book because you'll have lots of laughs with it.