Little Witch Goes to School
Written by Deborah Hautzig
Reviewed by Jonathan D. (age 8)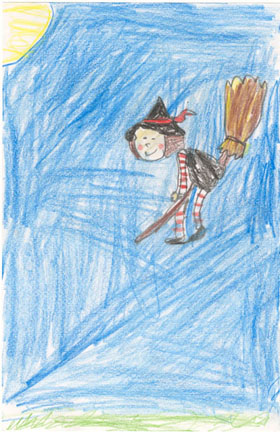 This story is mainly about a little witch that wants to go to school. Her mother does not want her to go but she tries to convince her mom by becoming and doing bad things so that she may go. Her aunts begin to throw eggs at the mail man, while her cousin Dispy is taping the leaves on the tree. Her mom was making spaghetti and mouse balls she asked herself ?What can I do?. She goes to sleep in her bed. The next morning she wakes up and this is when the fun begins. If you curious kids want to know what the fun was all about then you must get this funny and exciting book.
I think that the book was exciting to read because it can tell you a lot about witches. My favorite part of this book was when the little witch made her broom ten feet long. I like the little witch a lot because she got cool and interesting because she surprised her teacher with three worms in her apple.
I definitely recommend this book because you can learn about witches and if you like witches you can see them in this book.