The Adventures of Super Diaper Baby
Written by Dav Pilkey
Illustrated by Dav Pilkey
Reviewed by Zachary T. (age 9)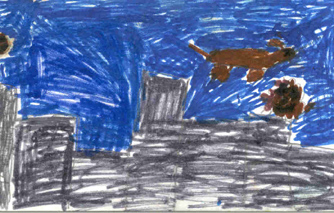 This book is part of the Captain Underpants series. It is about a baby super hero who rescues the city from Deputy DooDoo. Super Diaper Baby uses his brain power and strength to save the day. He has a helper named Super Dog who used to be a bad guy named Danger Dog. Together they work to protect the city.
My favorite part of this book was the ending. It's a surprise, so you'll have to read to find out how it ends. I like this book because it is funny and written like a comic book, with simple pictures to go along with it. I also like it because it's silly. The main character wears a diaper!
Kids who like superheroes and silly stories will like this book. Kids who like comic books will like this book too.