Magic Tree House - Pirates Past Noon
Written by Mary Pope Osborne
Reviewed by Bowie M. (age 9)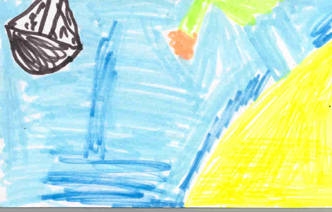 I like this book because it is from the Magic Tree House series, which I really enjoy reading. This book is about a boy and a girl named Jack and Annie, who go in their magic tree house to find things from a magician named Morgan le Fay. He owns the magic tree house and leaves clues for the kids to follow.
In this book, they land on an island. They see a ship nearby and find out it is a pirate ship. As always, Annie is looking for adventure and they end up captured by the pirates. The book gets really exciting from here.
I like when they get captured because I like action in a story. There is lots of suspense when the kids get captured by the pirates. I like this series because each time, the children are on another adventure, following Morgan le Fay's clues. They go to many exciting places.
My favorite part is when they find danger. Read more to find out what happens. If you like magic and adventure, you'll like this book and the other Magic Tree House books.