My First Pony
Written by Tessa Krailing
Illustrated by Neil Reed
Reviewed by KellyB. (age 8)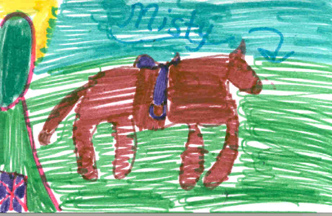 In this story, a young boy named Harry moves to the country. He meets an older girl named Clare who has two horses: Misty and Samson. At first Harry feels sad to move to the country, but after a while he gets used to it. He learns he is just the right size for Misty, who is too small for Clare. He goes to see Misty every day and takes care of him. He really wants a horse of his own.
Will he get to have Misty for his very own? Read the book to find out.
I like horses and so I really enjoyed this book. I also liked that Harry managed to overcome his shyness and liked living in the country. I was really happy when Harry found that Misty was the right size for him because Clare would have had to sell him if he didn't move to the country and meet Misty. I live in the country too and would love to have my own horse. Maybe someday I will!
Horse lovers will enjoy this book. So will kids ages 7-12. Kids and parents could read this book together.