Earthquakes in the Early Morning
Written by Mary Pope Osborne
Reviewed by Angela (age 7)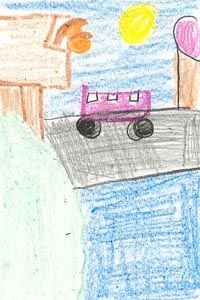 This book is about two kids. Jack and Annie go to San Francisco about a hundred years ago. There was an earthquake. They got hurt. Jack and Annie helped a woman and two children. Then they went back to the tree house and went back home.
My favorite part is when they met Morgan in the library. I like it when Morgan is in the book because she is a neat person. I like this book because it is fun and because I love to read about Jack and Annie's adventures. I like the illustrations because they show what happens during an earthquake.
Other should read it because they can learn about earthquakes. This is very important because we have earthquakes all the time. That's why we have earthquake kits at school.