Harry Potter and the Chamber of Secrets
Written by J.K. Rowling
Illustrated by Mary Grandpre
Reviewed by Jesse R. (age 8)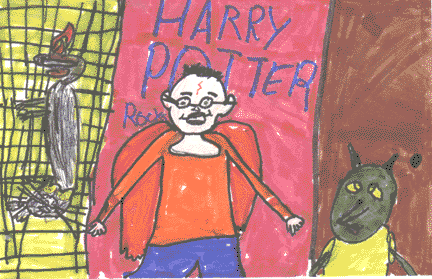 Do you want to read a story about a boy who is wizard? This story is about Harry Potter who learns he's a wizard in the first book, Harry Potter and the Sorcerer's Stone. But Doby a house elf tries to stop him from going to Hogwart's Wizard School. Harry's parents were killed by Voldamort when Harry was a baby. Voldamort is a dark wizard but luckily Harry survived which is why he is so famous.
The Dursleys are the only family that Harry has left, but the problem is that they are Muggles (Muggles are people who are not wizards). The Dursleys treat Harry terribly. When the Dursleys find out that over the summer you are not allowed to do magic, they lock Harry up in his room and give him very little to eat. Not only that they will not let Harry go back to Hogwart School.
You should read the book because you and your friends can talk about it and have a great time doing so! If you like the book you may even want to do a review about it like I did. One of the reasons I like the book is because you feel like you are Harry going through the problems, telling the truth, and being scared.
My favorite part was when it was Harry's birthday and Mr. Dursley invites over the Masons. I like this part so much because I think it is very, very funny.
When I read the book I felt like I was a wizard myself, flying on broomsticks and a lot of the other fun wizard stuff. If you like adventure you will really like this book.
J.K. Rowling writes beautifully - all the words come out so well, you'll think the story is real.
I loved this book and I hope you love it as well.