The Jalapeno Man
Written by Debbie Leland
Illustrated by Debbie Leland
Reviewed by Ashley H. (age 7)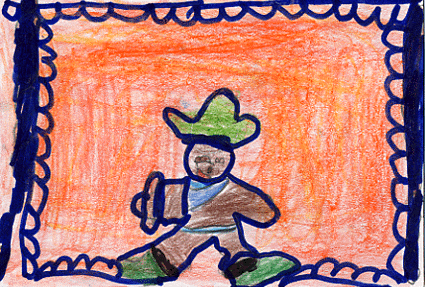 This book is about a Jalapeno man who lives in the desert. He always likes to run away from people. One day a wolf ate the Jalapeno Man because he told him that if he was going to pass the river, to get on his feet so the water could not catch him. Otherwise he would melt. The wolf told him to climb on his back, and then on his head, so the water wouldn't get him. He tricks the Jalapeno man and ends up eating him.
My favorite page was when they make the Jalapeno man because it's fun to look at the picture. The pictures are funny and cute. I like gingerbreadmen, but not with chile on them.
I recommend this book to 1st through 3rd grade because it is interesting. If kids are interested in the story The Gingerbread Man, this story is almost like it. If they liked that story, they will like the Jalapeno Man. I recommend that you buy this book at the bookstore.