The Farm
Written by Mary Fried
Illustrated by Sue A. Simon
Reviewed by Taylor Z. (age 7)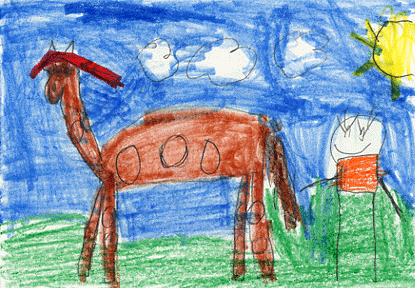 This book is about 3 farm animals. A pig, a cow and a horse. They are all friends and are happy living on the farm together.
My favorite part of this book is the little horse. The picture of it is so cute. In fact, the illustrator draws this book in black lines and lets the reader color it. That is what is so neat about this "Keep It Book" from Ohio State University. You get to color and keep the little book all to yourself. I like all the pictures in this book.
This story reminds me of when one day I went to a farm and visited all the animals. I saw some of the same animals there as there was in the book. I love animals.
I would recommend this book to anyone that likes farm animals or anyone that lives on a farm to read this book. It is very easy to read and is a good story about farms and the animals that live there.