The Teacher From the Black Lagoon
Written by Mike Thaler
Illustrated by Jared Lee
Reviewed by Tomoya S. (age 7)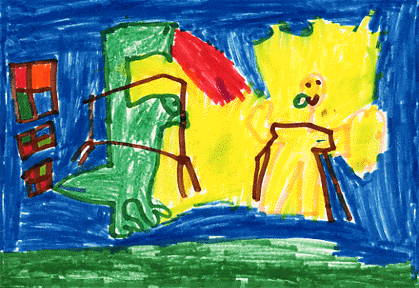 This book is about a dream that a kid has about his first day of school. This boy thinks his teacher is going to be a green monster with a tail because that was what he had been told by his friends. The monster's name is Mrs. Green and is really mean and cruel. Suddenly a bell rings and a nice lady stood there smiling saying "Hi! I'm Mrs. Green."
My favorite part of the story is when Freddy Jones, a student in her class, throws a spitball at Mrs Green and she breaths fire at him. He was gone and turned into a pile of ashes.I liked the pictures in this book because they are illustrating funny things that happened to the class.
This story reminds me of my first day of school. I was a little scared also because I didn't know who or what my teacher was going to be like. I recommend this book to anyone who likes school. You will enjoy reading this as it is all about school and it is also funny.