The Berenstain Bears In The Dark
Written by Stan & Jan Berenstain
Illustrated by Stan and Jan Berenstain
Reviewed by Logan C. (age 7)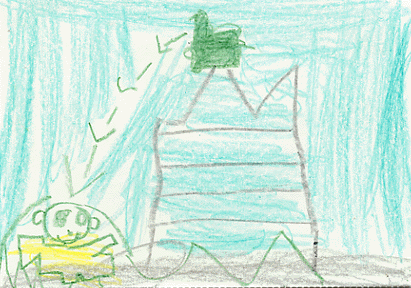 This book is about how sister bear doesn't like the dark. She is afraid of the big shadows in her bedroom. Brother bear is not afraid and tries to scare her and it works.It all started with a spooky book brother bear got at the library. At the end, sister bear is not afraid and brother bear is. She likes the switch. This book is a good book to read because it makes you laugh and not be afraid of the dark.
My favorite part of this book is when brother bear scares sister bear by sticking his fingers in his ears and making a face. I liked all the pictures in the book. They are cool.
This story reminds me of when I didn't believe in monsters. I do believe in them now since I was a vampire for Halloween. I recommend this book to other people who might be scared of the dark. It might help them not be afraid of it anymore as it is very funny.