Pedrito's Day
Written by Luis Garay
Illustrated by Luis Garay
Reviewed by Megan P. (age 9)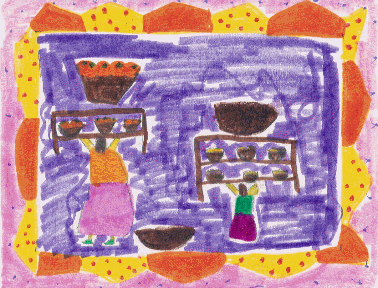 In this book you hear about something that most kids should do, that is to be honest. Honesty is a very important thing.
Pedrito is a boy. I think Pedrito is about eight. Pedrito earns his money by polishing shoes.
Pedrito's father wants him to have a bike. Pedrito's family doesn't have a lot of money.
Pedrito has to take dollar bills to another stand and give the bills to them. Then he has to bring back change. On his way to the other stand he loses the money by playing soccer. Pedrito has to find a solution.
Pedrito does something really interesting. He has a goal. Pedrito's goal is to earn enough money to buy a bike.
This book is special because it doesn't have just one language. It has two. The other language is Spanish. It only has a couple words of Spanish in the whole book.
This book reminds me about the book called Diego. The reason why I think that is because of the languages. They both have Spanish. The ways that the books are different is with the amount of Spanish used. Diego has more Spanish than Pedrito's Day.
I liked the whole book a lot. This book is about courage, culture, home, honesty, and perseverance.
I think this book is for people who like to take a chance and forget a lot. I recommend this book to kids in grades one through three, and maybe fourth too. I think that because that's what reading levels it's for. First and second graders might need this book read to them. I think adventurers will like this book, because this boy is pretty adventurous.