The Secret of Shadow Ranch
Written by Carolyn Keene
Reviewed by Julia S. (age 9)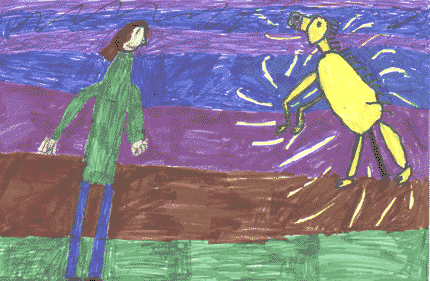 Have you ever read a book that had a phantom horse in it? Well, in this book Bess and George's Aunt and Uncle own a ranch in Arizona that really is being haunted by a phantom horse!
George, Bess and Nancy Drew are going to Arizona to see what they cando to help with the haunmting of the phantom horse which is giving the aunt and uncle a very hard time! No one is coming to stay at the ranch now and the couple need some money so they can keep the property they own.
When Nancy and her friends get to the ranch, they feel a cool wind and suddently the phantom horse appears. Al of the cowboys go chargin to see if they can catch it but it mysteriously disappears. When it happens again, the ranch dog goes after the phantom and doesn't come back! When you read this book you can find out what happens to the dog, phantom horse and nancy Drew herself.
This book is in a series. It is very different from all the other books because it is the only one with a phantom horse in it.
I really like this book because it is exciting and many mysterious things happen.
I recommend this book to kids that love mystery stories. If you like it, you might want to read all the other books in the series.