Drummer Hoff
Written by Barbara Emberly
Illustrated by Ed Emberly
Reviewed by Evan M. (age 8) & Daniel K. (age 8)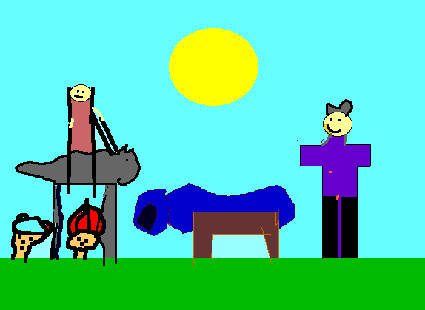 Do you like stories about the army? If you do you should read Drummer Hoff. This book is about an army that was building a cannon. Each man brought one part to build the cannon. The story builds like a pyramid and keeps on adding another part. It also rhymes. All the men's last names rhymed with what they used to make the cannon. For example, Sergeant Chowder brought the powder. When Drummer Hoff, the last man, fires the cannon, instead of KABOOM it's KAAHBAHBLOOM! Drummer Hoff is a book made from a folk song.
My (Evan's) opinion is they should put more people in the song. It would be even more interesting with additional parts added to the cannon. I (Daniel) liked the illustrations because the men looked funny. They have chubby faces and dots on their cheeks. Drummer Hoff won the Gold Caldecott Medal in 1968.
We recommend this book to people who like the army. We also recommend this book to people who like to read Caldecott award winning books. Children who like stories that build and rhyme will like this book!