The Wrong Way Rabbit
Written by Teddy Slater
Illustrated by Diane de Goat
Reviewed by Karens L. (age 6)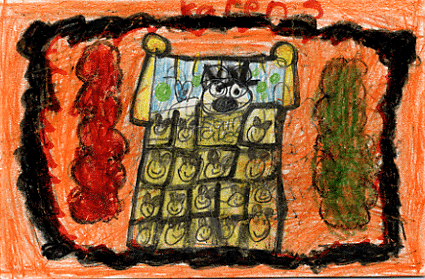 This book is about the Wrong Way Rabbit. His name is Rabbit Tibbar Jack. He did funny things like walk funny. He also did a funny thing like when mom told him to bring some oats. But he brought a goat instead. Then when the children go down, Jack goes up. When he paints, he paints the wrong way. This is because the paint on the cow was blue and the sky was brown. Also when it's time to go to bed, he goes to play. If he wants to go in, he goes out. Jack wears his sweater inside out. Jack also puts his juice in the bowl. He did the numbers wrong too.
I like this book because it makes me laugh. My favorite part was when he paints the sky brown and the cow blue. It makes me feel like giggling because he did everything wrong.
I recommend this book to first graders to third graders because the rabbit does funny things. If you want to read this book, I promise you will laugh.